Instructions for the use
---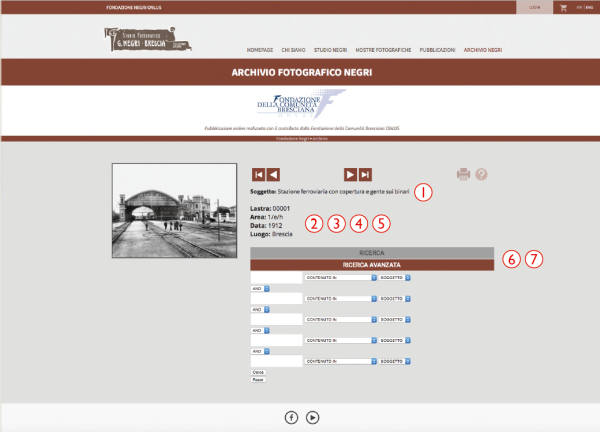 Subject Field: This contains a description of the principal elements found in the image.
Glass Negative: This indicates the reference number given to each negative held in the archive.
Date: The date normally refers to the day that the photograph was taken, but only if that information is known.
Location: This indicates where the photograph was taken.
Area: This refers to a number of reference-coded classes and sub-classes used to classify the image. Each subject is classified under a maximum of two classes, each of which can contain a further two sub-classes, (see classification code-list on following pages.)
Research: This key opens up the possibility of doing a simple research with the insertion of a single word.
Advanced Research: This key opens a window of research which is able to apply terms from various different fields of activity. The dialogue space in this window can be used to insert the important words to help identify rapidly the areas under research. Examples of use appear below.
---
Research subject 1 :  Loggia Square at Brescia.
Square: is named in the subject;
Loggia: is named in the subject;
Brescia: is the location named in the subject.
Research subject 2 : Inside the O.M. factory.
O.M. : The subject contains an exact description* of this name.
1/(q): The subject will be found in the (number + letter in brackets) classification code-list that follows on the next page.
* "contains an exact description" This phrase means that the description is complete in itself. Without this phrase a computer might consider the letters "om" to be part of another word, such as "complete".
---
Classification Code-List  (0-9, sub-codes in alphabetic order)
0. NATURE AND ATMOSPHERIC PHENOMENA
(a) Natural and atmospheric phenomena.
(b) Natural disasters, hydro, geological and extreme weather effects.
(c)  Flora.
(d)  Fauna.
(e)  Minerals, Microphotography, Medical photography.
1. LANDSCAPES AND ARCHITECTURE
(a) Panoramas and scenery.
(b)  Natural scenery.
(c)  Man-made scenery.
(d)  Agricultural scenery.
(e)  Urban scenery.
(f)   Rivers and lakes.
(g)  Parks and Gardens.
(h)  Public building exteriors.
(i)   Public building interiors.
(j)   Private building exteriors.
(k)  Private building interiors.
(l)  Religious building exteriors.
(m) Religious building interiors.
(n)  Civil and military engineering projects.
(o)  Work-sites, mines, earth-moving projects.
(p)  Factory exteriors.
(q)  Factory interiors.
(r)  Office exteriors.
(s)  Office interiors.
(t)   Rural architecture exteriors.
(u)  Rural architecture interiors.
(v)  Shops.
(w) Artisan workshops.
(y)  Archaeology and historic architecture.
(z)  Aerial and submarine photography.
2. WORK
(a) Agricoltural
(b) Pastoral and animal breeding.
(c) Labouring.
(d) Office-work.
(e) Artisan occupations.
(f) Working at home.
(g) Domestic and female occupations.
(h) Commerce and distribution.
(i) Marginal occupations.
(j) Harvesting, hunting and fishing.
(k) Artistic and theatrical occupations.
(l) Liberal professions and scientific research.
 3. TRANSPORT
(a) Wheeled land transport.
(b) Rail land transport.
(c) Maritime or fluvial transport.
(d) Aerial transport.
(e) Animal-powered transport.
(f) Accidents and disasters.
4. EVENTS AND CEREMONIES
(a) Historical and News.
(b) Political.
(c) Social.
(d) Military.
(e) Ritual.
(f) Religious.
(g) Family.
5. INSTITUTES, ASSOCIATIONS AND PUBLIC SERVICES
(a) Civil and Political.
(b) Public and private armed forces.
(c) Public and voluntary social work.
(d) Education.
(e) Medical and psychological care centres.
(f) Prisons.
(g) Public services.
(h) Religious services.
6. SOCIAL CUSTOMS AND CLOTHING
(a) Images of local costumes.
(b) Clothing and fashion.
(c) Social customs.
(d) Games.
(e) Children's games.
(f) Sports.
(g) Leisure and holiday activities.
(h) Eroticism.
7. CULTURAL MATERIAL AND OBJECTS
(a) Household objects or tools.
(b) Symbolic, religious or magic objects.
(c) Artistic objects.
(d) Furniture and furnishings.
(e) Kitchen activities and gastronomy.
(f) Still life images.
(g) Goods.
(h) Reproductions.
(i) Musical Instruments.
(l) Arms.
(m) Documents.
8. PORTRAITS
(a) Single portraits.
(b) Group portraits.
(c) Passport portraits.
9. ADVERTISING AND PROPAGANDA
(a) Advertising
(b) Propaganda